Michael "Sherm" Schuett – USMC (1970-1976) – 0311 (Infantry). MASH is the "brain child" of my partner "Tony" Panasuk – U.S. Army Major Retired and myself. Although the term MASH is an Army acronym for "Mobile Army Surgical Hospital", we felt the term MASH could be put to better use (today) in helping support Veterans and 1st Responders through the use of CBD products under the name (Military and Athletic Strength Hemp Oil). CBD has shown tremendous results in lowering: Pain, Inflammation, Anxiety and PTSD.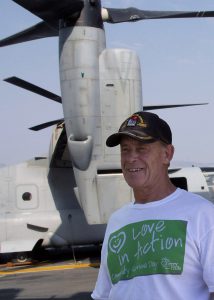 Our first step was to register MASH – we received approval within 30 days. Next, we sought and tested hundreds of products to find the "very best" CBD oil, salves and freeze gels available; our emphasis was/is: All Natural, Veteran Owned, Organically grown hemp, using the cleanest extraction method – Co2 extraction. Thus, our products would be of the highest quality at the lowest cost plus (Veterans receive a 20% discount) and 25% of the net proceeds is being directed to groups helping to lower the suicide rate of Veterans and 1st Responders who have and continue to sacrifice for the freedom and safety of all Americans.
The suicide rate of Veterans has gone up significantly (22 per day). And, although the suicide rate of 1st Responders – Firemen and Police Officers, is not widely reported, it has also become critical. 
A few of the groups we support are: Mt. Carmel Veteran's Service Center in Colorado Springs: https://veteranscenter.org/, Twenty-Two Until None – https://www.22untilnone.org/ and 4kidzsports –  https://www.4kidzsports.org/ which provides Sports Equipment, Games, Toys, and Clothing to "Kids in Need" with an emphasis on helping Veteran Families throughout the Colorado Springs area.
"Through the use of our products you will feel a difference"
"Through the purchase of our products you can help make a difference".
Please try our Products, support Our Mission and give us a Review:
"Help Us Help Ours" Help Us lower the suicide rate of Veterans and 1st Responders.
Thank You, Sherm